Bhutan Travelog - Bhutan Travel Guide Book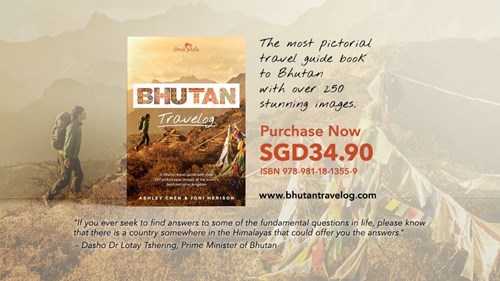 The most pictorial travel guide book to Bhutan. With over 250 stunning images of the most exclusive Kingdom in the world.
Written by two individuals who have a deep affinity for the Kingdom and have travelled to Bhutan for over thirty times collectively.
● 9 exclusive first-hand experiences shared by diverse travellers
● Bhutanese cuisine, culture and identity
● Important travel tips
● Top attractions in Bhutan
● Most popular trekking routes
● and many more
Want to know more about Bhutan?
Get your Bhutan Travel Guide - Bhutan Travelog
Travel to Bhutan by Air
There is currently only one international airport, Paro Airport in Bhutan located in Paro district. Flights can be booked through the national airline, Royal Bhutan Airlines (known as Drukair). Drukair flies to and from Bangkok (Thailand), Kathmandu (Nepal), Singapore, Dhaka (Bangladesh), and a few Indian cities such as New Delhi, Kolkata, Gaya, Bagdogra, and Guwahati.
There are limited flights and flights are restricted to daylight hours only due to the difficulties in navigating the terrains. Hence, you should avoid a tight connection flight. You are highly encouraged to book your trips at least four to six months in advance especially if you are planning to travel during the peak seasons of spring (February to May) or autumn (September to November).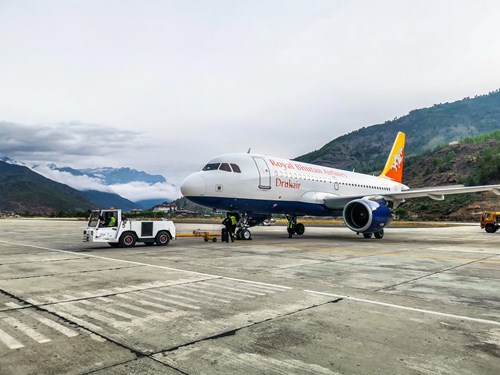 Travel to Bhutan by Land
You can also travel to Bhutan by land through the border towns of Phuentsholing or Samdrup Jongkhar. Your tour operator will arrange your pickup in one of these border towns. Phuentsholing is located in southern Bhutan and is connected to the town of Jaigaon in India. It will take approximately 6 hours to drive from Phuentsholing (180 km) to the capital of Thimphu. You can also enter via land from Samdrup Jongkhar in eastern Bhutan from the state of Assam in India. Travellers usually only enter through Samdrup Jongkhar gateway if they intend to explore the districts in Eastern Bhutan such as Trashigang, Trashiyangtse, Mongar and Lhuntse.