The system of government of Bhutan is a constitutional monarchy, with His Majesty the King as the head of state. The Kings of Bhutan are known as Druk Gyalpo ("Dragon King"). Through the admirable stewardship of the Druk Gyalpos, Bhutan has shown excellent leadership in environmental preservation and maintained significant forest cover, provided safe habitat for endangered species, and adopted many environmentally friendly and sustainable policies.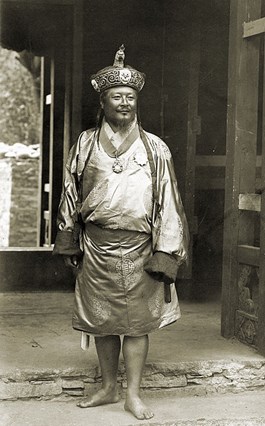 First King - Ugyen Wangchuck
Ugyen Wangchuck was elected as the hereditary ruler of Bhutan by a unanimous vote of Bhutan's chiefs and principal lamas on 17th December 1907. He was crowned as the head of state with the title Druk Gyalpo, ending the dual system government. He developed close relations with the British by assisting with negotiations between Britain and Tibet. He was deeply aware that Bhutan ought to be protected through times of regional conflict and rivalries. During his reign, Bhutan remained largely isolated from the rest of the world. Ugyen Wangchuck died in 1926 and was succeeded by his son, Jigme Wangchuck.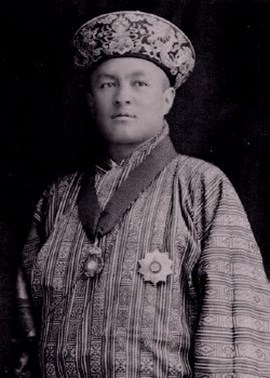 Second King - Jigme Wangchuck
Jigme Wangchuck's reign saw significant administrative reforms in the country. He enforced a hierarchical system where the king had absolute power over all religious and secular matters. He also appointed a Je Khenpo (Chief Abbot) to set up a central religious administrative body. He is often credited for bringing modern education to Bhutan. In 1949, he signed the Indo-Bhutan Treaty with India, calling for peace between the two nations and reinforcing Bhutan's sovereignty and independence. He also continued his father's legacy by maintaining the country's isolation and ensuring political stability.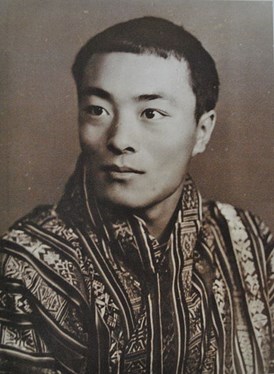 Third King - Jigme Dorji Wangchuck
Jigme Dorji Wangchuck also fondly known as Father of Modern Bhutan succeeded the throne in 1952 following the death of his father. He opened up Bhutan to the outside world, embarked on modernisation and kickstarted Bhutan's journey towards democracy. His education in England and exposure to many foreign countries helped to broaden a wider understanding from a political and economic perspectives. In 1953, he implemented democracy in Bhutan by establishing the Tshogdu (national assembly) who had the power to remove the King or his successors with a two third majority.
He formulated a new legal and judicial system, and drafted the country's first economic development plan. He developed Bhutan's infrastructure including transportation, communications, education, health system and agriculture. He was the driving force behind the modern education system in Bhutan.
Bhutan's isolation in the world ended under the third king's reign. He viewed diplomatic relationships with other countries as integral to the country's sovereignty and independence.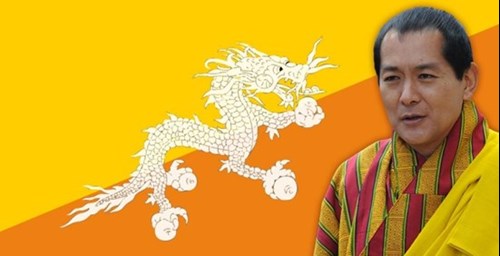 Fourth King - Jigme Singye Wangchuck
Jigme Singye Wangchuck assumed power in 1972 at the tender age of 17 following the sudden death of his father. Despite his youthfulness and lack of experience, he brought forth profound wisdom to the throne. He continued the reform and economic policies that his father initiated, focusing on economic self-reliance while preserving the culture, tradition, and natural environment. He also introduced the renowned 'Gross National Happiness' philosophy as a measurement for society's progress and development in replacement of Gross National Product. Bhutan's economy also accelerated under his reign where he established industries in raw materials, agriculture and hydropower.
The king also focused on the preservation and promotion of national identity as part of the sixth Five Year Plan that was introduced in 1987. King Jigme Singye Wangchuck recognised that a strong distinct national identity was crucial for Bhutan's well-being and security. As part of the "One Nation, One People" policy, the king issued a royal decree to strengthen the Bhutanese identity by promoting the Bhutanese etiquette, national costume and national language, known as Dzongkha.
In 2005, after ruling the country for more than three decades, the fourth king announced plans to abdicate in favour of the crown prince, Jigme Khesar Namgyal Wangchuck and to convert Bhutan from an absolute monarchy to parliamentary monarchy in 2008.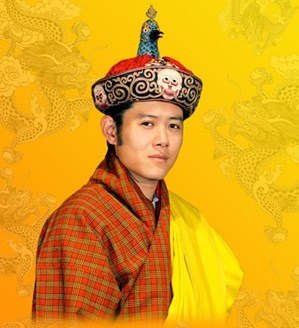 Fifth King - Jigme Khesar Namgyel Wangchuck
Jigme Khesar Namgyel Wangchuck was formally crowned as the Druk Gyalpo on 6th November 2008. Jigme Khesar was educated in India and the United States before attending Oxford University to study politics and international relations. After his coronation, he launched the National Cadastral Resurvey, which focuses on improving the lives of Bhutanese living in remote areas.
Bhutan has seen significant investment in hydroelectricity and economic development under his reign. He also signed a new treaty of friendship with India in February 2007, replacing a 1949 treaty. In 2011, he launched the Kidu Foundation, to complement the government efforts to address critical issues in the areas of education, rule of law, democracy and media, sustainable economic development, and preservation of the country's environmental and cultural heritage.
King Jigme Khesar recognised the importance of Bhutan becoming a parliamentary monarchy. In 2008, he personally oversaw the peaceful transition from absolute monarchy towards parliamentary democracy that his father had envisioned. The fifth king, like his father, is popular and well-loved at home and abroad. Together with Queen Jetsun Pema, they travel internationally for official Royal State Visits and have raised the profile of Bhutan as a sovereign country. His humble and down to earth personality has earned him the title of "People's King".